Hey there everyone,
Today's introduction post comes from the heart of the Midwest (or so they keep telling me), where the summers are short and muggy and the winters make you think your face will fall off: Minnesota! My name is Channing and I'm a third-year veterinary student at the University of Minnesota College of Veterinary Medicine. Joking aside, this is one of the most beautiful places I've ever lived, the people are lovely, and my campus is small and fairly quiet. The UMN CVM is on the St. Paul campus, the cute, rural feeling little sibling of the massive east and west bank Minneapolis campuses. This is nice for those of you that don't want the distraction of dealing with heavy traffic, congested walkways, and of course, undergrads.
As a third year, we have moved from the main building of our program and into the beautiful Ben Pomeroy Center, an old barn and historic part of the vet school that has been converted into a cafe, administration, and classrooms for third year classes.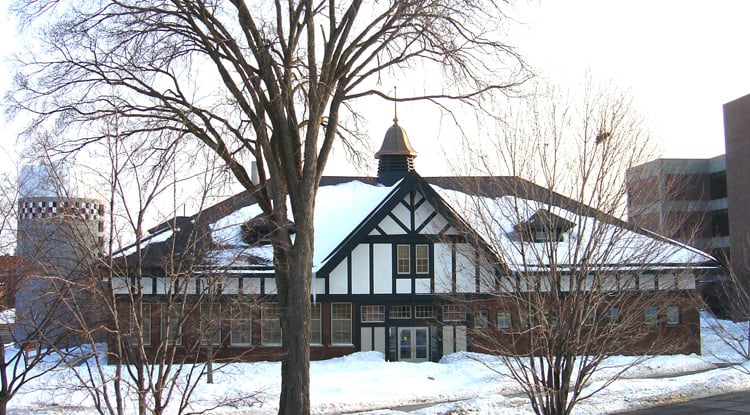 If you have any questions about the University of Minnesota, let me know, otherwise, I'll leave off of it for now.
I'm originally from southern Arizona, but I'm told I was simply born in the wrong place (I tend to agree), and moved to Fort Collins, Colorado after graduating from high school for my bachelors, and later my masters degree. After living there and going to school for five years, I was accepted in to the DVM program of the University of Minnesota, so I packed up my life and moved even further away from my family to make a home here in "South Canada". I haven't looked back, and neither should the rest of you when the time comes!
I have two amazing black cats, Tyki (top), a 6 year old male black DSH, and Asia (bottom), a 5 year old female black DSH, both of whom are rescues. They're the sweetest little things when Tyki is being a jerk, and you will hear of them frequently.
I also have a two year old female blue heeler/Australian Shepherd cross named Tesla (left), and I partially have an 11 month old male black standard poodle named Jarvis (right, and he's really my boyfriend's dog, but I watch him and take care of him a lot). Cool fact about Tesla: she's actually the daughter of Erika's two dogs, Ursa and Carbon, and two of her brothers, Einstein and Ludo, are with my two brothers. Talk about keeping it all in the family!
Lastly, I have a little devil of a cornsnake, he's three years old and his name is Ragnarök, or Ragnar for short. He's the first reptile I've ever had, and he's kind of a jerk, but he's real cute when he behaves. The second is my boyfriend's ancient cornsnake, Aggie. She's huge, and she's a diva, but is also a snake shaped puppy sometimes.
Aside from that, my life revolves around vet school, with side notes of video games, my boyfriends, and mental/emotional breakdowns!
I have a strong interest in diagnostic imaging, research, and teaching, so I plan to pursue a residency after graduating from vet school, and probably a PhD after that. My ultimate goal is to either go into academia, where I can actively practice, do research, and teach all at the same time, or failing that, I'd like to go into industry where I can research and spend extra time with outreach projects.
In case you haven't figured it out, I'm a small animal person, but I have a very important message for all of you, especially small animal people. Just because you want to track one way or the other, doesn't mean that the rest of the species are unimportant. Small animal veterinarians are the best link between agriculture and the public, and it's important for all of us as experts (or future experts) in the field to work together to provide the best information possible to the general population. I will probably talk about this more later, so be prepared.
I believe I'm the last of us to be starting classes for the year, so I will wish all of you luck in your classes, be they undergrad, post-grad, or vet school courses!
~Channing